Children learn best when they are in a safe, predictable, child-directed environment, like the one we strive to create at EBJ.  This environment is play-based, offering open-ended, exploratory, experimental, and varied experiences.  Nonetheless, we adhere to a daily schedule, bringing order to the child's day.  Because our teaching roster exhibits very low turnover and the classrooms are organized around a small class that spend the entire year together, there is continuity and consistency in the care that fosters close peer-to-peer and student-to-teacher relationships.  EBJ strongly believes that these relationships establish the foundation for each child to develop emotionally, socially, cognitively, and physically.  We also feel that parents are the primary educators of their children, and therefore we maintain active communication between the program and the home.
At EBJ, the classes are flexible, individualized, and relaxed.  Through an enriched, challenging, and varied curriculum, children have maximum opportunities to explore through first-hand experiences.  The day is planned to ensure a balance between individual and group play, quiet and active times, children's choices and teacher-initiated activities.
Outdoor play is an important and daily part of the program.  Other important curriculum areas include art, music, imaginative play, nature observation, physical sciences, literature, mechanics, construction, sand and water play, puzzles, and games.  Blocks are wonderful for exploration of relative size and shape (conceptualization) as well as fine motor manipulation.  Music and movement offer opportunities for socialization, body sense, pitch and rhythm awareness, and cultural appreciation.   Activities like painting, working with play dough and clay, coloring, pasting, and gluing develop interest, fine motor skills, socialization, sensitivity to color, media, form, and shape.  The dramatic play area affords much opportunity for socialization and language development.  Sign language is used in all of the classrooms.  As you can see, our curriculum is integrated and overlapping and the flows of our sessions are very natural, emerging from the children's and teachers' interests and abilities.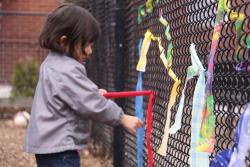 EBJ is an inclusive program.  We work to support and facilitate individual learning styles through ever-changing and investigative approaches to curriculum. There is never just one way to learn.  There is inclusion of a range of developmental abilities, developing sensitivity towards diversity in approaches to learning as young children work with each other.  Many of our activities grow naturally out of our classroom environments, led by the children's interest and inspiration to investigate.  Teachers consider the home language when working on literacy, and offer support in the transition between home and school.  We collaborate with other professionals with support in speech and language, physical therapy, occupational therapy, and development of social/emotional skills for children with IFSP's and IEP's, or other individualized plans.  Parents are welcome participants in our day-to-day activities and are encouraged to offer their expertise and talents.